Obituary for Denver McCloud
Denver McCloud, 72, of Verdunville was born April 28, 1946 and passed December 1, 2018 at his residence. Born the son of Golden and Lola (Evans) McCloud, he is survived by his daughter, Melissa Barnard, her husband, Randy, and their children, Jacob and Justin, all of Roanoke, Va.

Also surviving is his twin brother, Dennis, and his wife, Ellen McCloud; his sister, Carol (late husband, Danny); sister Loretta Burgett, and sister Janice (Dwight) Williamson, as well as several nieces, nephews, great-nieces, and great-nephews.

Denver, who holds the distinction of having played guitar in the band, "Big Brother and the Holding Company," has played in many bands since he was a teenager and was known to be one of the better guitarists in the area. He loved playing music with fellow band members, performing as recently as this year in several locations.

He leaves behind a great many memories for his family, friends and fellow band mates, as well as thousands of other people who have heard his guitar play with various rock 'n roll bands.

At Denver's request, his body will be cremated and a memorial service conducted at a later date. Honaker Funeral Home is graciously in charge of arrangements.

The following story was written while he was alive and to share his accomplishments during his musical life.

I wrote this story a few years back and it appeared on the front page of The Logan Banner. Oh, how I'm glad I took the time to do so. Rest easy, my friend.

"Hey, hey, my, my, rock 'n' roll can never die."----Neil Young

You won't find his picture in Cleveland, Ohio's Rock and Roll Hall of Fame Museum, and it's not very likely he will be featured in Rolling Stone magazine anytime soon, but for many area residents who can recall when live bands were featured all across the local region, the name of guitar playing Denver McCloud is one that certainly stands out. The ageless wonder continues to "rock"--- just not in any chair.
Denver McCloud is a bi-product of a time in which Rock and Roll was born and when some of the best music ever was played. He was raised during an era when older folks were listening to the likes of Bing Crosby, Perry Como, Rosemary Clooney and Lawrence Welk, and other soothing talents---- and during a time when evangelists across the nation were condemning the birth of rock and roll music. In fact, many people described the new music, which was taking American teenagers by storm, as "the work of the devil."
In reality, many of the baby boomers born after World War II were becoming teenagers by the mid-1960's; by the early 1970's American society found itself catering to a generation of young people in a way that never occurred before. Though the 1950's had rockabilly stars like Roy Orbison, Elvis Presley and the Everly Brothers, to name a few, it was the "British Invasion" of the Beatles on February 7, 1964, and their appearance a week later on the Ed Sullivan Show which changed the tide and flow of American music. The Beatles were hugely popular; at one point they had the top five records on the Billboard Hot 100 List. The British Invasion, which later included The Rolling Stones, who are still touring even today, killed off almost all the existing American groups with only the Beach Boys, Four Seasons and some Motown acts surviving. However, it would not take long for America's youth to fire up its own brand of long-haired rock and roll music.
It came during a time of upheaval in America. Following the "Summer of Love" in 1967, the following year saw the assassination of both Martin Luther King and Robert Kennedy. Rioting at college campuses across the nation over the Viet Nam conflict was making the headlines, and the Black Panther movement was born this same year. In addition, LSD, marijuana and other drugs were beginning to tear at the country's social fabric, as the "hippies" had arrived. The summer of 1969 saw a three-day music festival called Woodstock in which 450,000 rain and mud-soaked young people took to a field in New York for 'free love and live music". After the overdose and drowning death of the Rolling Stones' Brian Jones , the musical decade of the 60's was about over; Neil Armstrong's walk on the moon being the non-musical highlight of the year.
The year 1968 stands out for McCloud because that is the year the Logan County band named Robin's Hoods won the Tri-State Area's Battle of the Bands at the Charleston Civic Center. At the time, it was almost as exciting an event for Loganites as was the 2012 winning of America's Got Talent award by Eugene Landau Murphy Jr. Besides McCloud, at least two of the band's members still are members of local bands today---Tinker Ball and Del Curry. Other members of the group included two local businessmen, Rick Abraham and Mike Veres. Abraham played keyboard and Veres was a saxophone player. Charlie Nagy played bass guitar, Popsy Ward played the trombone and Danny Dress was the drummer. June Carey and "Little" Eddie Hunter were singers, according to McCloud, who said he was 17 years old at the time.
"There were at least 100 bands in the competition,'' McCloud recalled. Describing the group's dress for the competition, McCloud laughed. "We were dressed in blue and black tuxedos and we didn't have long hair either. It wasn't until 1970 that I first saw a hippie-looking band around here."
Denver said his grandpa, John Marcum, and his Uncle Harold first taught him how to pick a guitar. The tune Wildwood Flower was the first song he learned to play. By the time he was in the 8th grade, he and junior high school friend, Carmello Pansera, had formed their own band. He was 14-years-old when the band played at what was the Malibu Lounge at Mt. Gay.
"Carmello was the most underrated musician around here. He could sing and could play just about every instrument there is," Denver declared. After his mother died, he never played again."
As a member of Robin's Hoods, McCloud, who has played lead and bass guitar over the years, said the group had its own bus and they performed often in Huntington. James Hairston, better known as "007", was the bus driver.
"Those were some crazy times. Rick played keyboard, but he also was a great manager. It's a wonder he didn't get killed going into some of those places to get us bookings,'' McCloud explained. "Rick's dad, Bill, rented us a club above the old bus terminal in Logan we called Sherwood Forrest, but we were too stupid to run it," he added, noting that two other Logan Clubs they frequently played at were The Rooster's Tail and the Ace of Clubs.
In 1970, a time when the Beatles broke up and Diana Ross left the Supremes, the overdose deaths of talented artists Jimi Hendrix and Janis Joplin was a sour beginning to an otherwise, great decade of music. Joplin was lead singer with Big Brother and The Holding Company until she went solo in 1968. It would be this group that Denver McCloud would join upon their request in 1972 under some strange circumstances.
"Barlow Ramey and I were driving to Florida that summer to pick up a guitar player for our band, and we saw this huge bus broken down beside the highway in South Carolina. It had "Big Brother" written all over it. Barlow stopped and changed the tire right there beside the highway because they didn't know how," McCloud explained. "They had driven from California and were booked all over the south that summer. They invited us to a house in Greenville they had rented, and I practiced three days with them; then, spent all summer performing in places like Atlanta and other places in the south. We never did make it to Florida to pick up the guitar player we started out after."
The group apparently took a likening to the two Logan County boys as they invited Ramey to California to be a stage hand and two weeks later sent McCloud a airplane ticket to Santa Barbara, California. "I flew six hours there and then played six hours that night," he recalled. "Barlow had already driven out there."
Big Brother and The Holding Company's album Cheap Thrills is considered one of the masterpieces of the psychedelic sound of San Francisco; it reached #1 on the Billboard charts and was ranked #338 in Rolling Stone's 500 greatest albums of all time. The group dropped part of its name and became known simply as Big Brother, but was still widely accepted.
"We played sometimes five days a week at mostly colleges like UCLA, San Francisco and Oregon, and places all up and down the coast because they paid well---and you had all them college girls," Denver said with a grin. "We made good money, and every Sunday we would drive down to Durango, Mexico to buy some pot. California always has been ten years ahead of West Virginia, and always will be. At the time, we lived three blocks down from the Beach Boys."
McCloud said it took almost two years for them to record an album with Capitol Records. "We would go into the studio and do a song, then in another two months, go in and put another one or two together," he explained.
After playing with Big Brother for a year, he came back to Logan, but returned to the group on three other occasions when they telephoned asking him to return. "They just didn't want to learn anything new," McCloud explained. "It didn't help any that my girlfriend there ran off with a doctor."
Throughout the years, Denver McCloud has defied the odds as he first overcame the childhood illness of rheumatic fever when he was seven years old. "Doc Spurlock saved my life. He put me on four penicillin pills a day until I was 16 years old."
Many years later, his wife of six years and the band's lead singer, Sharon Philips, was killed in 1984. Then, fellow band member and close friend, Barlow Ramey, was shot and killed one year later at the Flamingo Club at Justice when the group was backing up performer Johnny Paycheck. In more recent years, another longtime friend, Carmello Pansera, also has passed away.

Dale Dillon, Orville Butcher and drummer Jack McBrayer comprised the group Powerhouse which is the last band Denver has played with. Although the foursome hasn't performed together in a while, different members often show up at McCloud's home for a jam session. One of the group's yet unnamed recorded CDs features all original music and may be marketed soon.
"We got cussed out one night at a club because we let a black guy set in with us and sing," McCloud laughed. "It was Landau Murphy Jr., before anybody really knew who he was."
According to McCloud, Hendrix was "by far" the best guitar player ever, but he added that he also liked the great Jimmy Page, Deep Purple's Ritchie Blackmore, and Eric Clapton.
Denver McCloud does not claim to be the best guitarists around, and he doesn't' like to talk much about his age either, but the fact remains: he's still "kick'n" in more ways than one. So are Page, Clapton, Mick Jagger and Keith Richards. However, that should not come as a surprise since, after all, they are all made of "rock" and have already long endured.
To send flowers or a remembrance gift to the family of Denver McCloud, please visit our Tribute Store.
Events
Event Information
Cremation has taken place.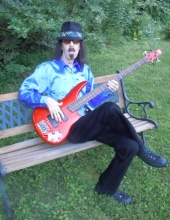 Thank you for sharing your
memory of Denver
Provide comfort by sending fresh
flowers from our local florist.
No thanks, please don't show me this again.